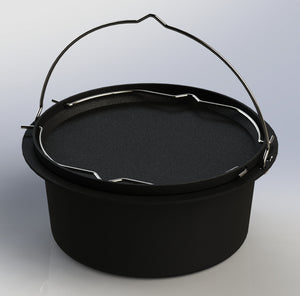 Our new pre-seasoned, un-breakable* carbon steel 4.3L pro quality Cookpot. Perfect when out and about or overlanding as unlike cast iron, you don't have to worry about dropping your pot!

Made in the UK and seasoned by hand with organic flaxseed oil, which gives the perfect base for immediate cooking or ideally, further seasoning at home - instructions included.
Use as a conventional hanging pot or dutch oven style by loading coals on the top to get heat from above.
The lid is designed to be used as a hanging pan for shallow frying etc and can actually be used on the pot whilst food is cooking inside!
Take care to follow the care and maintenance guide supplied to get the most out of your pot. 
Features:-
Heavy duty spun carbon steel pot and lid.
stainless steel handles - can be sprung and removed from lid if required. 
Comes complete with 40cm hanging chain and hook for use with all Firegrills.
Supplied pre-seasoned.
* Will not crack like cast iron when dropped, but could bend or dent.