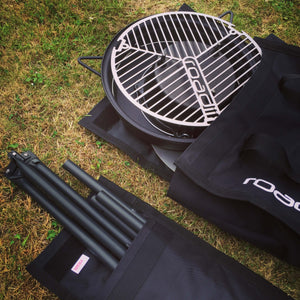 These bags have been used for demonstration and display may have some cosmetic marks and blemishes.
Designed for pre 2020 model Firegrills One, Two and Three, this set has two bags.

One for the hearth and grill and one for the legs. The leg bag is designed to store the legs either complete or un-assembled and the hearth bag is big enough to hold the cookpot and accessories too. Made in England from durable heavy weight black polyester the bag set is the best way to transport and protect your Firegrill.

**Please note that whilst the bag is big enough to carry all components, additional padding and protection will be required to avoid components rubbing against one another. Firegrill not included.